AvBrand Exploring Technology
Front-Facing Camera
I've been planning on adding a front-facing camera to my CarPC for some time, pretty much since the project started. I just never really considered it that high of a priority. Well, I had some spare time the other day and decided to tackle this part of the project.
The first step was to install a camera in the front of the car. Placing it in the grille or anywhere outdoors would get it dirty and useless very quickly. The best place, I decided, would be right behind the rear-view mirror. It would have essentially the same view I do, be protected from the elements, and always have a clear view thanks to the wipers.
I tested my concepts, wiring, hardware, and software with a cheapo camera, and when it all worked out, I moved to a higher-quality CCD 530-line camera.
Here's some photos of the mounted camera: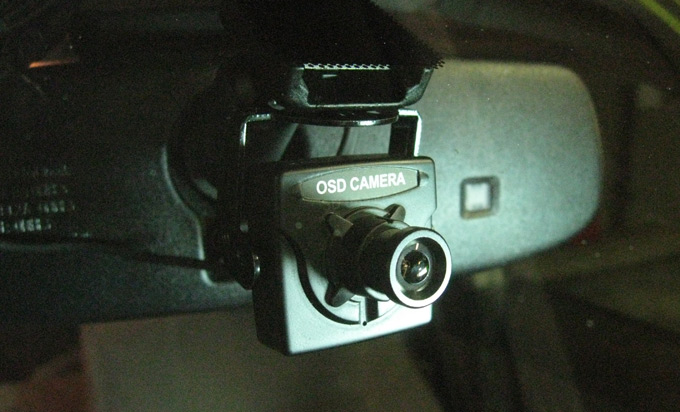 The camera (along with my newly upgraded reverse camera) are wired into an IPVideo four-port network video encoder:

This device is rather odd, but I've managed to tame it with my customized 'CamCatcher' video recording and motion detection software. As I drive, video is automatically recorded to the CarPC's drive and then later synchronized to my home fileserver via the WiFi connection in my garage.
I'm still in the very early stages of designing the viewing software, but here's a preliminary look:
(click to enlarge)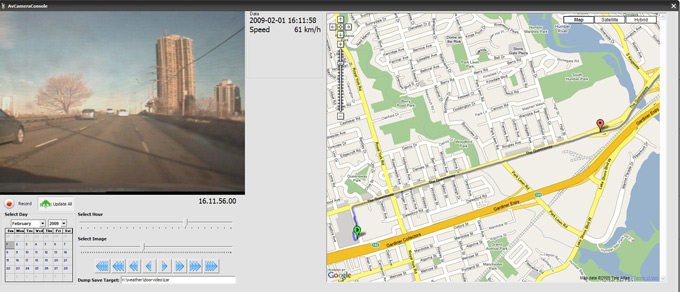 The software allows you to shuffle through the video, forwards and backwards, on the left. A Google Map automatically displays the recorded GPS track as a blue line on the right, and a red marker indicates the position of the car when the image was recorded.
Here's a video of this addition in action: