AvBrand Exploring Technology
Keeping track of twenty TV shows
4:00 PM, October 9th, 2009
There's about twenty TV shows right now that I enjoy watching. However, I really don't have the time to watch them when they actually air, and sometimes I don't even have time to watch them the same week they air. Also, many of them are off-the-air for months at a time, such as Top Gear.
A few years ago I wrote a little piece of software called TVGet, and I've been refining it ever since. Here's what it looks like right now:
Click to enlarge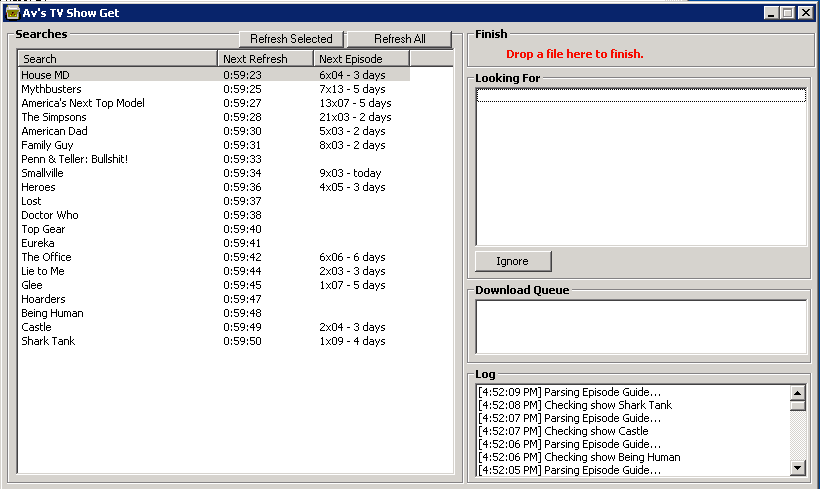 The software basically tracks as many TV shows as I can throw at it, figures out when the next episode is on, and then attempts to download the episode from a variety of places on the internet. Once the file has arrived, it automagically renames it into the naming scheme I prefer and adds it to the folder where that show lives on my file server. The server itself keeps track of which episodes I've yet to watch.
It's simplified my life and allowed me to enjoy these shows on my schedule, and not on the broadcasters.
Comments
Morder 11:29 PM, October 9th, 2009
Awesome, I'm working on something similar but I didn't think to automagically check for future airings of shows...thanks!

Don 7:24 AM, October 15th, 2009
If you wouldn't mind, could you give a little more info on how you're getting future airings of a program? What services do you use to know the program guide and which shows are new. This is a great idea!! Wish I would've thought of it.

Avatar-X 10:46 AM, October 15th, 2009
Hi Don,

I'm using www.epguides.com to get the information.

Don 11:18 PM, October 19th, 2009
Thanks Avatar-X! I had looked at a few different products, like XMLTV, but I hadn't run onto epguides.com.


BTW, that's a beautiful puppy!